Deleteing your ad....Please wait....
Please do NOT close the browser or click any links until this process has completed.
For Sale > General Items > Toys, games
Ad Number: 213786
Location: Yellowknife, NT
Posted: Nov 30th 2021 at 10:05am
---
Kid's PUSH Car
Ride around in sporty GT style.
This modern kid's ride-on allows little ones to have a comfortable ride around the neighborhood while they steer the steering wheel for pretend play fun. 
Parents can take toddlers on a long stroll by storing their favorite snack or drink the under the hood storage compartment.
Contact Info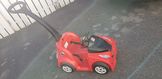 Ad Stats:
---
viewed: 157 times, printed: 31 times, on 0 watchlists, emailed to 0 friends, emailed to 0 watchlists
---